through the looking glass
Escorted by a knowledgeable person in Buddhism, Buddhist iconography and Bhutan, this is a cycling tour with a difference. One need not be a hard-core cyclist, just reasonably fit with a passion for an active holiday. There is no cycling between two destinations as is the case in many cycling tours, however once at a particular destination, we explore that particular city on cycles. The vehicle will never be too far away, in case anyone gets tired. The group size will always be small. Come, explore Bhutan on a mountain bike and experience this beautiful mountain country with a king who rides a bicycle too! Thimphu has many tales of close encounters, or near-misses with the King, when people pulled over their car to chat with the bicycling monarch, the time they spotted him, or someone who looked quite like him, on an early-morning ride.
Insider Tips:
Maximum – 10 participating guests.
Language – English and French.
Best time for this itinerary: Mid-November to April.
Best time for mountain views in Bhutan: Mid-November
to mid-March.
December, January, February is the time for thanksgiving
in Bhutan and a great insight into how the Bhutanese
have retained some of their pre-Buddhist animist
tradition. The thanksgiving ceremonies take place in the
ancestral homes in the countryside.
Best time to see the Rhododendrons bloom: April and
May. The drive from Thimphu and Punakha, via the
Dochu-la Pass, during the month of April and May, is a
riot of colours with blooming Rhododendrons.
Bhutan festivals are some of the most colourful and
exciting festivals in the world. Paro and Punakha
celebrate their annual festivals in the month of March
and February respectively. It is a great time to be in
Bhutan. Accommodation and flight tickets have to be
secured at least a year in advance should you want to
include any of the festivals in Paro and Punakha in the
Bhutan itinerary.
Most Bhutanese establishments such as Textile Museum
and the Zorig Chosum are closed on Saturdays, Sundays
and public holidays. Similarly the lowering of the National
Flag and the March of the Guards in Thimphu don't
happen on Saturdays, Sundays and public holidays.
Cycling Information:
In Thimphu (2 nights): Paved roads/Cycling of 12 kms
over two nights/Easy.
In Punakha (2 nights): Paved and unpaved roads/38 kms
over two nights/Easy to Medium.
In Gangtey (2 nights): Paved and unpaved roads/10 kms
over two nights/Medium.
In Bumthang (3 nights) Paved and unpaved roads/36 kms
over three nights/Easy to Medium (Cycling in Tang Valley
not included).
In Paro (3 nights) Paved roads/15 kms over three
nights/Easy (Cycling back from the Chele La Pass to our
hotel not included).
Type of Cycle:
Commencal Hard Tail or Trek Mountain Bikes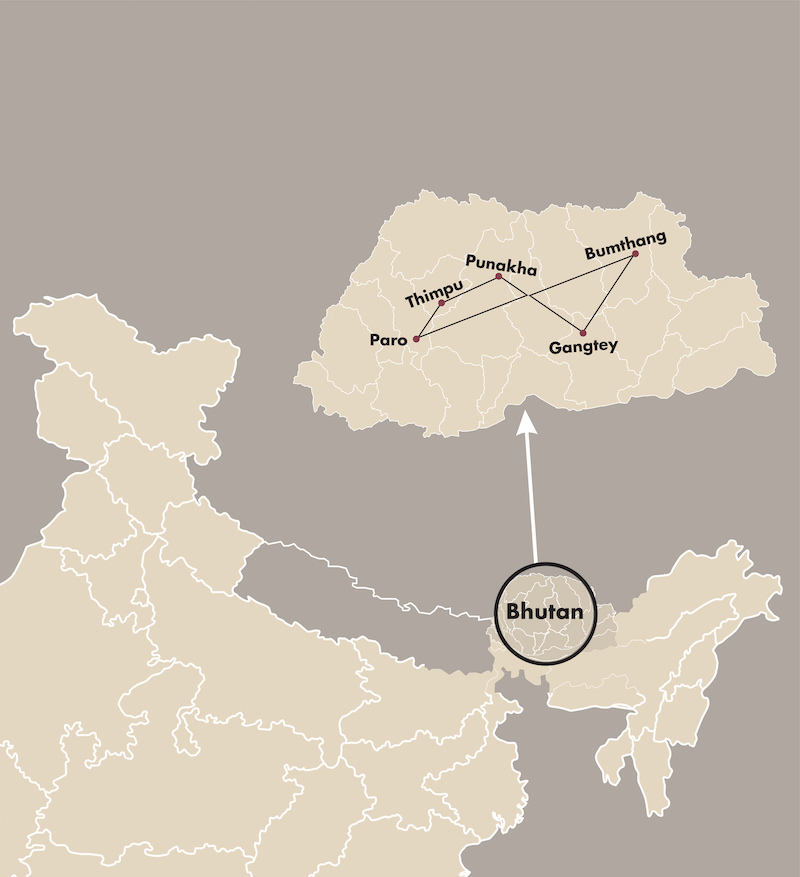 day wise itinerary 

Any Bhutan guidebook will tell you that 'Kuzu Zangpo La' means Hello and 'Kadinchey' is Thank You, but to make the locals smile you need to know a word or two of the Dzongkha slang which no guidebook will tell you. Try this one with the guide: 'JOE-GAY-MOOSH'; it's a Dzongkha slang equivalent to "Let's Hit the Road Jack". Your guide will love it and definitely smile.

BIODIVERSITY conservation
Bhutan's vast forests cover 72.5% of the nation's total area of 46,500 square kilometres. So the country is not only carbon neutral, but carbon negative. Only 7.8% of Bhutan's land area is under cultivation despite 85% of Bhutan's populace relying on agriculture, livestock and forest products for their sustenance. Whilst Bhutan forest cover blankets 72. 5% of the nation, 26% of the land is protected in national parks, reserves and sanctuaries. Another 9. 5% of the nation is protected in the biological corridors that link nine protected areas. In 1974, the National Assembly mandated that 60% of the country's land will have to be kept under forest cover for all time to come. Bhutan is home to 5446 species of vascular plants, 178 species of mammals and 770 species of resident and migratory birds.

Read the latest articles by Distant Frontiers' expert team, including columns like Lost in Luxury, Culture Matters and travel news as well as exclusive insiders from the road by our Explorers.