Apart from a ride on a thatched houseboat, Kerala holds many secrets within its backwaters that you need to only open your eyes to see. There is a living heritage so rich with a colorful history and people that will keep you enthralled throughout. Their livelihood entrenched with traditionally sustainable ways of living has many lessons for those who wish to learn. It was on one of my trips to God's Own Country, that I decided to give the famous Kerala backwater cruise a miss, and instead experience life here on foot.  
 The Blue Hour  
 When you are not onboard a houseboat, Kerala shows you a different sight.  The air was fresh and cool. I took a deep breath to savor that special moment – the Blue Hour – as we started walking alongside the canal and paddy fields. That blue faint light – perched on the edge between night and day – heralding the new day. Filled with magic and potential, these moments of transition can reenergize minds and souls. We were among the few out on morning walks.  
 My host lead the way to a local temple where we lingered outside to see locals arriving to pray – men in their crisp golden-bordered dhotis (a handwoven cotton wraparound) and women, pretty in their cream saris, their hair decorated with strings of jasmine. I saw food being cooked on huge utensils atop a roaring fire.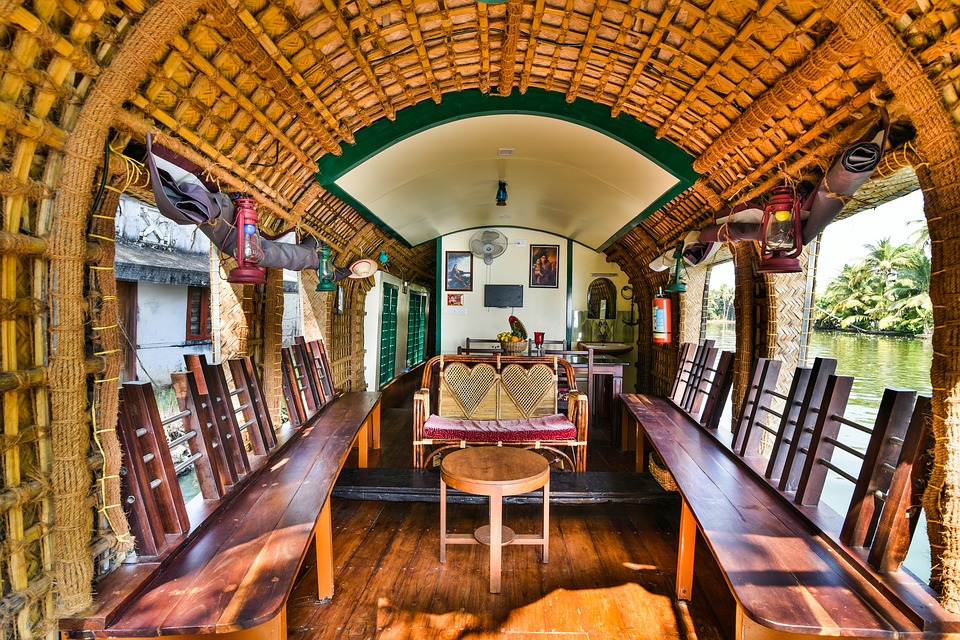 Do priests across Kerala have great voices? 
 I heard the priest singing, not chanting (the speaker was tied to a tree inside the temple) – what a voice he had. I remembered the priest of Champakulam Church in the wedding I had chanced upon in 2010. What a voice he too had – singing like a rock star, microphone in hand while conducting the wedding. I also remembered the bride who took a sip of water from my bottle – poor thing was thirsty – and whispered a Thank You.  
 When you sail through the backwaters in a houseboat, Kerala tends to elude you, and you miss the chance to see the innate sustainability practiced by her people. You miss seeing the once palatial and now dilapidated houses of the priests in charge of the local temple. Their story remains unheard.  
 Ten Thousand Ducklings in a Field 
 The sun was out. The soft rays soaked up the water in the canal as a mist rose from it. Streaks of sunlight beamed through the coconut trees and onto the road as we continued walking. What a beautiful sight it was.  Soon I was introduced to the sounds of the backwaters – a symphony that rarely makes itself heard on a Kerala backwater cruise. It began with a cage wheeled tractor preparing the wetlands for rice plantation. Its iron wheel was viciously mixing the water and the soil. Then, I saw the most amazing sight – ducklings – at least ten thousand of them, yes ten thousand. They were quacking in the paddy fields just across the road. I was told they are worth at least USD 40,000!   Duck farming in the backwaters is a traditional vocation. Once the entire paddy is harvested just before the summer rain and fields are empty, thousands of ducklings make their way to the empty fields for their feed. For six months, they are constantly on the move from one field to another. This long-winded feeding tour leads them up to the borders of Tamil Nadu or even beyond. By the end of the season, which is during Christmas, they are finally sold for meat.  
 Fascinating!   Such similarity they have to the Yak/Goat/Sheepherders of the Himalayas and the Rabaris of Rajasthan and Gujarat who traverse huge distances with their cows and buffaloes.  
 Chance of a Lifetime  
 My reverie about the traveling ducks of Kerala, backwater cruise capturing only a fraction of life here, and the Rabaris from parched lands of Rajasthan and Gujarat was broken by the blaring Malayalam (local language) announcements of the lottery ticket seller. Striding a moped, he peddled the magic promise of winning 1 Crore Rupees (About USD 150,000). My host translated the enticing promises that were booming from the ticket seller's microphone – "Not to miss", "Last day to buy — tomorrow, tomorrow, tomorrow", "Win-win everyone", "Tomorrow is your day", "All you need is to buy one", "Chance of a lifetime"!  
 Run by the Government since 1967, the lottery system of Kerala is a creative way of generating employment within the state and strengthening the local finances. It is an ingenious way of ensuring sustainable local economic growth.  
 The Fisherman with his strange bike horn  
 While on a Kerala backwater cruise, you get to experience the wonderful variety of local fish. But here, on my morning walk, I got to encounter the fisherman selling his catch to the women of the neighborhood. A peculiar bike horn announced his arrival and soon women came and bought sardines, mackerels, and other fish from him. He reminded me of the Poder of Goa, the traditional bread maker who sells piping hot freshly baked bread on his cycle.  
 At the market in Alleppey town, I found the vendors to be pushy and was told that the rates fluctuated according to the days of the week – more expensive during weekends when everybody enjoyed a hearty leisurely lunch. The fisherman on the boat, though had a different way of announcing his arrival – it was a song which he sang loudly and women from the houses by the canals came out to buy. Again, a quick affair, and I saw a woman bartering her duck eggs for fish. 
When on a houseboat, Kerala and her peculiarities, her self-sustaining ecology, and almost intuitional sustainable practices remain as if behind a veil. As I walked through the backwaters, I began to see the way people respected their heritage, the abundant gifts of nature and coexisted with the other creatures.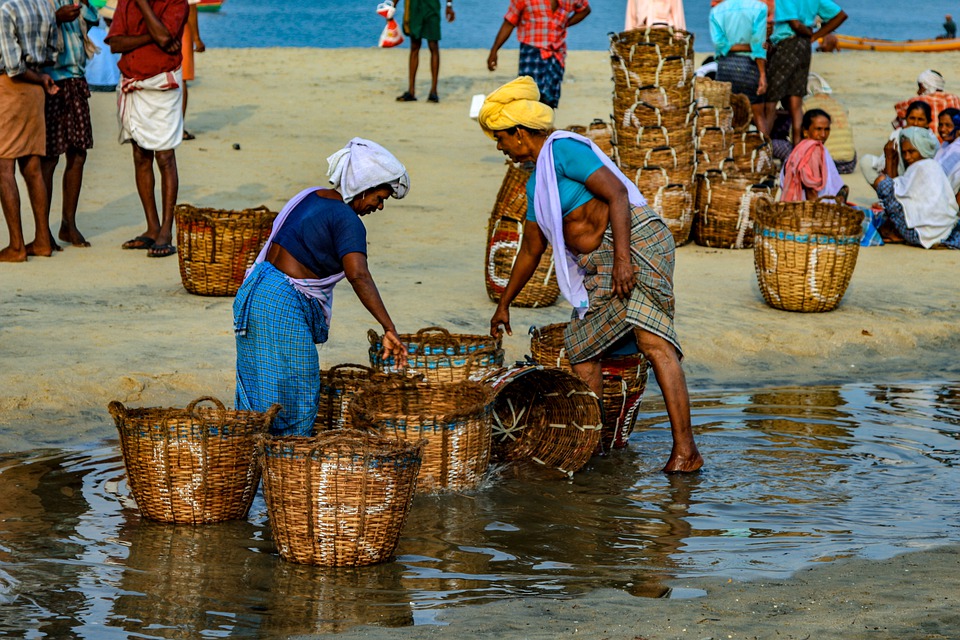 A Cup of Tea with a New Friend   
Is a morning walk ever complete without a cup of piping hot tea? We headed to the nearby Chaya Kada (tea stall). These stalls form the nerve center of the local community where people come for their daily fix of gossip. One of the locals at the stall invited us to see his fish farm and paddy fields. Did you know paddy cultivation in the backwaters is carried out below sea level that makes it a unique agrarian practice? They even have a farmer-owned, farmer-run bank in the backwaters to handle the finance part of it.  
 Our new friend was then invited back to his home for a round of fresh passion fruit juice. Whether on a walk or onboard a houseboat, Kerala is full of such experiences where people come up to you and open up their homes. The meetings are enriching for both parties and respectful of each other's cultures.  
A tuk-tuk driver gave us a ride back to our homestay.  
Walking through the backwaters that morning, I realized the importance of being responsible when taking a Kerala backwater cruise or even passing through the settlements in your journey. While the region is blessed with natural bounties, it is also important to enjoy these responsibly. The people here pride themselves on their high literacy rate and it is crucial that your encounters remain mutually respectful. Remember to take only memories, and leave only footprints when you take a Kerala backwater cruise next time.