Land and Landscape​
Bhutan, also called Land of the Thunder Dragon, is a tiny landlocked country sandwiched between India and China nestled deep in the eastern Himalayas. Impressive monasteries perched on the face of rugged mountains, fortresses (dzongs) built-in traditional Buddhist architecture, and breathtaking natural beauty, are the main attractions for visitors. Bhutan's bounty of natural beauty makes it perfect for hiking, trekking, and cycling. The overall peace and tranquillity pervading throughout the country make it one of the most sought-after destinations in the world.​
By constitutional mandate, 60 percent of Bhutanese soil is always to remain under forest cover, making it one of the most verdant countries in the world. Its efforts towards sustainable living and environmental welfare have made Bhutan the only carbon-negative country in the world. High mountains, crisp greenery, dotted with dramatic Buddhist monasteries and fortresses make Bhutan a cocoon of serenity. Rolling fields of rice and rivers with their tributaries traverse the countryside giving it a bucolic beauty unmatched by any other. ​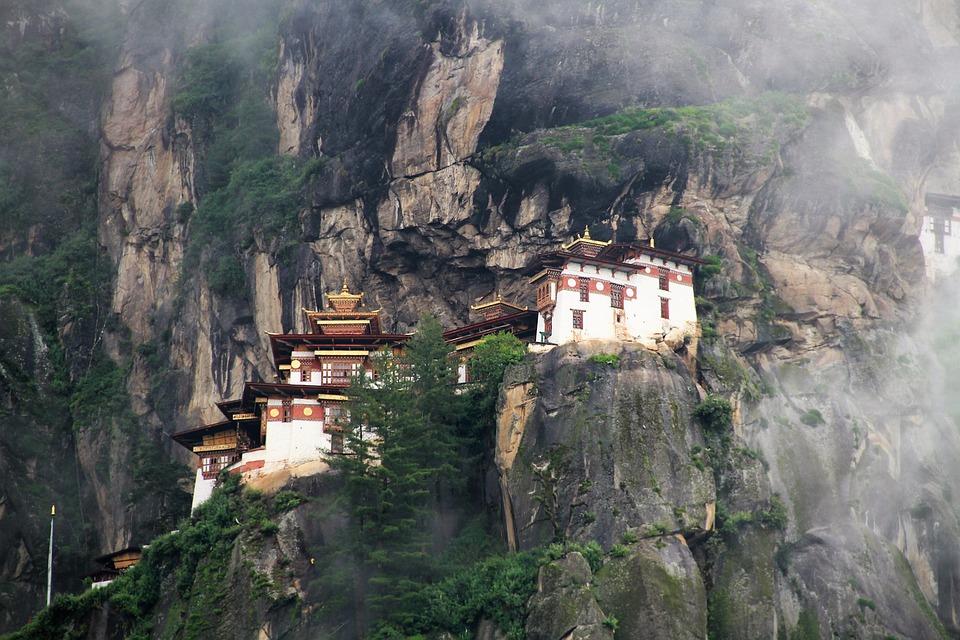 Civilization and History​​
Bhutan is one of few countries, which has been independent throughout its history, never conquered, occupied, or governed by an outside power. Bhutan's historical period begins at about 747 CE when the revered religious leader Guru Padma Sambhava came from Tibet and introduced Buddhism to the country. For centuries, Bhutan was made up of feuding regions until it was unified under King Ugyen Wangchuck in 1907. The British exerted some control over Bhutan's affairs, but never colonized it. Until the 1960s, Bhutan was largely isolated from the rest of the world, and its people carried on a tranquil, traditional way of life, farming, and trading, which had remained intact for centuries. In 1998, King Jigme Singye Wangchuck, who is Bhutan's fourth hereditary ruler, voluntarily curtailed his absolute monarchy, and in March 2005 released a draft constitution that outlined plans for the country to shift to a two-party democracy. In 2008, Bhutan enacted its Constitution and converted to a democracy to safeguard the rights of its citizens. Later in November of the same year, the currently reigning 5th Druk Gyalpo Jigme Khesar Namgyel Wangchuck was crowned.
​
People & Society​​
The people of Bhutan are warm and hospitable with a deep-rooted respect for their traditions and customs. Bhutan's unique living culture is carefully preserved and nurtured by her people and forms the backbone of the country's sovereignty. One of the remarkable aspects of Bhutanese society is that it is free of class and caste system. Society maintains general gender equality. ​
One of the most distinctive characteristics of the Bhutanese people is the traditional attire that they wear with pride. Gho, a knee-length robe tied at the waist with a belt is the traditional dress for men. While visiting the Dzongs men wear long scarves called Kabney in different colors signifying the rank and status of the wearer. Women wear a long, ankle-length dress called Kira along with a light outer jacket called Tego. Raw silk scarves with bright and rich embroidery called Rachu complete the attire for women. These also have specific colors denoting the ranks and status of the wearer.
<p">
​
Gross National Happiness ​
The unique concept of Gross National Happiness, recognized by the UN, as a developmental paradigm rests on the belief that true development of society can occur when material and spiritual growth happens side by side. It follows the principle of sustained material development with an emphasis on the attainment of happiness and preservation of culture and environment. ​
Religion
​​
According to the constitution of Bhutan, its citizens and visitors have the freedom of choosing and practicing their own religion. While the majority of the citizens of the country follow a form of Tibetan Buddhism, there are also Hindus, Muslims, and Christians present in the social tapestry. ​
Bhutanese people, those who follow Buddhism, practice Vajrayana Buddhism introduced to the people by Indian Tantric Master Guru Padmasambhava in the 8th century CE. With his visit and propagation, Buddhism took strong roots in the country, and today, it is regarded as the last bastion of the Vajrayana school of Buddhism. Zhabdrung Nawang Namgyal, who arrived in the early 17th century CE, united the different schools of Buddhism in Bhutan and gave the nation a singular identity. ​
Buddhism is evident in all aspects of Bhutanese life with colorful prayer flags, prayer wheels, and beautiful murals on the walls of monasteries and dzongs, and red-robed monks chanting and performing rituals. ​
There is also a form of animism known as Bonism prevalent in some areas of the country. According to this, a host of deities were the rightful owners of different elements of nature. Each different facet of nature was associated with its own specific type of spirit.  One can witness many shamanistic rituals in the villages even today. ​
​
Art and Culture ​
If the essence of Bhutanese art were to be summed up in one word, it would have to be "color". Art plays an intensely spiritual role in the everyday life of the people of Bhutan. Each piece created symbolizes a connection with something that goes beyond the realm of humanity and enlightens them. That is why the 13 Traditional Arts and Crafts known as Zorig Chusum remain prevalent today and form an integral part of Bhutanese culture. ​
The 13 Arts and Crafts are ingrained in Buddhism, and it is believed that Pema Lingpa introduced these in the 15th century and the 4th Druk Desi (ruler) Tenzin Rabgye categorized them in the 17th century. Each piece contains intricately detailed work following the same principles, ideologies, and symbolisms that make Bhutanese art truly primeval and spiritual. One of the most notable facts about Bhutanese art and crafts is that it is always anonymous as according to their belief, the work is more important than the artist (is). ​
Just like its art, Bhutanese culture also draws heavily from its traditions and religion. Their language closely resembles Tibetan, and the monks use a variant of the same to read and write the ancient texts. The people are extremely proud of their cultural identity and embody the same in their everyday lives. ​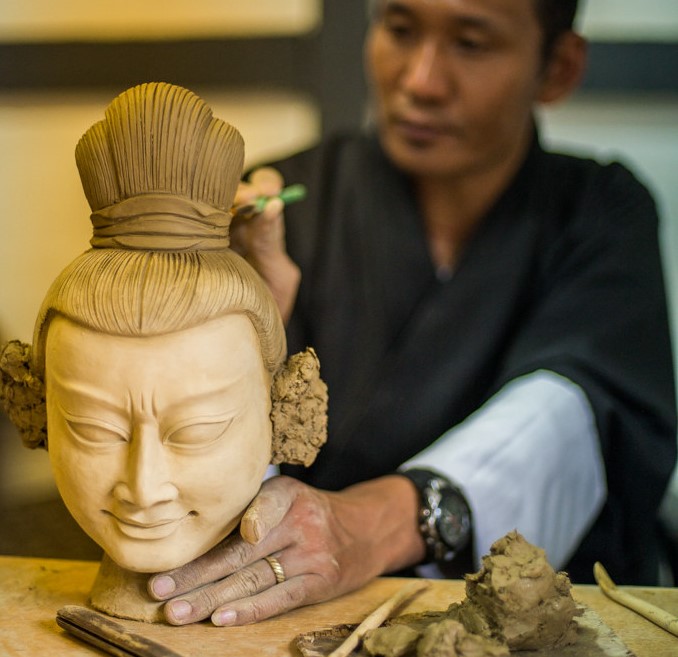 Cuisine ​​
The fieriness of the food is the most discernible aspect of Bhutanese cuisine. The people love their chilies and add this ingredient liberally to nearly all their dishes. The cuisine has simple but flavourful items that include both vegetarian and non-vegetarian fare. Bhutanese red rice is the staple cereal, and it forms the main body of the meals. One or two side dishes containing both meats and vegetables are served alongside. Meats in Bhutanese meals include chicken, pork, and beef. Seasonal vegetables used to prepare dishes include pumpkins, turnips, tomatoes, onions, green beans, radishes, spinach, and river weed. ​
The National Dish of Bhutan and its most famous fare is Ema Datshi. It is a flavourful and fiery blend of chilies and a local cheese called Datshi. This is a staple of nearly every meal in Bhutan and is relished by locals and visitors alike. Different variations of this dish are found throughout the country where other ingredients are introduced or Datshi cheese is replaced with Yak cheese. No visit to Bhutan is complete without tasting this spicy and creamy concoction. Other must-try items include momos (dumplings), Phaksha Paa (pork cooked with fiery red chilies), and butter tea.​